Igor Beyder epitomizes the American dream - from immigrant To successful entrepreneur. The Beyder family arrived in Brooklyn from the Ukraine when Igor was only 8 years old. Eager to make it in the US, young Igor started working at his dad's dry-cleaning business when he was ten, delivering the clean clothes to clients. The entrepreneurial bug kicked in right away and at age 14, Igor, with the help of his dad, opened an innovative new business. Their mobile laundromat would park in areas where most residents did not have their own washers and dryers.
When Igor was 16, he put business aside to concentrate on another love: hockey. A budding NHL player, Igor moved to Toronto to go to school at the Hockey Training Institute where they played hockey from 4:30 am to 8:00 pm, with schooling in between. This led to a scholarship to the University of Delaware. Unfortunately, a third ACL tear forced Igor to put aside NHL dreams, and go back to his first love: business.
Always interested in real estate, Igor dabbled in assorted aspects of the industry, most notably as a co-owner of a mortgage company. He was a banker of record in ten states and offered loans to low-income clients. About seven years in, a Yellow Book Audit revealed that his partners were stealing funds from him. Once his partners bought him out, Igor decided to take a short breake from the corporate world.
This break led him to open an entirely new business. Igor loves a good burger and decided that a high-quality, simple menu, and fast service take-out place was needed in NY. His restaurant Fresh'n Fast on 23rd and Park offered fries and burgers made from fresh (not frozen) potatoes and beef patties. After a few years, Igor sold the restaurant to his landlord and went back to real estate, including construction and design.
Igor got his start as a REALTOR at Keller Williams, Tenafly, in 2015. Three years later, he took off on his own opening Beyder & Company. His experience designing, building, renting, and flipping houses, led him to start a new type or full-service firm.
"I saw a white space in the luxury market in Borgen County." Igor said. Beyder & Company provides marketing, design, and build solutions. His wife Maryana works with him as well to make this concierge luxury firm a "lifestyle company". Maryana helps people develop a vision for their home.
"Sometimes people need someone to bounce ideas off of," Maryana explains. "We help them with more than just chooslng a home. With our creative approach, wo can do home rendering, stage homes, and help with construction and design. We have a lot of connections with fabric companies, tile companies, etc. With our partners, we can help pass these discounts on to our clients."
With both husband and wife working together, Beyder & Co. has a real family feel. Igor is the broker of record wilh a team of ten people. Maryana shares her husband's love of ffipping homes, colloborating on custom projects, and flipping spec homes. Igor and Maryana live in Alpine with their three children: Sophia, 10: Jolie, 7: Levi, 5: and their miniGoldendoodle Penny Copperfield.
The Beyders contribute their success to hard work, perseverance, and tenacity. Their average home price is just over $2 million, servicing all of Bergen County, with an emphasis in Alpine, Cresskill, Dumont, Englewood, Closter, and Demarest. The next move is to expand into commercial real estate as well.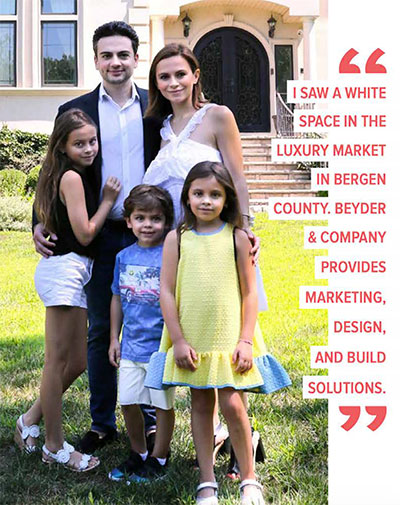 I asked Igor to share some interesting real estate stories. The first one that popped into his mind was a listing for a famous art dealer whose clients included Rod Stewart, Madonna, and Michael Jackson. The home was a house carved into a mountain in Cresskill.
The site work alone was over $20 Million. The home had been Michael Jackson's favorite cast coast estate. Being a dog lover, Michael had a tunnel built under the house leading to a dog kennel. One day, Michael decided to climb into the tunnel to make his way via tunnel to visit the dogs. Unfortunately, he got stuck in the middle and had to have the Cresskill police pull him out with a rope!
The Beyders are both enjoying their joint real estate venture. One source of job satisfaction is helping clients realize their dreams. Igor and his wife see their role as a "lifestyle curator" for a family, not merely a seller of homes. Being on their own and running a business is also a source of pride and happiness for Igor nnd Maryana, both of whom are masters of their own destiny.
When he is not working Igor likes to kick back and wntch MMA and boxing with a good burger.
Bergen County Real Producers